On March 30-31, KALBA together with National Exhibition Centre LITEXPO is organizing a National Studies fair, for education at home and abroad.
This event is KALBA Group partners only event, therefore please register your interest, and KALBA Group Head of Studies Abroad, Paulius Jakuitis, will be in touch soon.
Every year, at least 40,000 students and young people from all over Lithuania attend the exhibition.
As many as 88% of the visitors said that the studies exhibition is very important for making decisions on where to study and how to plan their career.
22% of the visitors stated that they made up their mind about which profession or field of study to choose at the exhibition.
We are noticing an increasing demand of Masters and Online studies abroad, with the inquiries mainly arriving in spring therefore this time of the year, our fairs attract wider arrange of age groups for various study methods. At the same time it allows Universities from abroad to compete, within the same hall, for the students that perhaps never even considered studies abroad and came to meet local universities. 
Exhibition promotes lifelong learning, priority of education in the modern world, to inform youth on variety of the directions and forms of education in the country and abroad.
Opportunities in the exhibition:
Booking stand in KALBA (120 square meters in total) or egoPERFECTUS (25 square meters in total) areas
Advertising opportunities 
Seminars, Presentations
You will get a chance to present your university in the fair that attracts most students from all over the country each year and collects leads.
Exhibition is held under the support of the Ministry of Education of Lithuania. 
Exhibition profile:
Bachelor's, Master's, PhD programs

Education abroad and student

exchange programs

Scholarships in Foreign Universities

Vocational Training

Career Counselling

Business fair and quick job interviews

Educational institutions
Last Exhibitors profile (2019):
More than 200 exhibitors participated from Lithuania, UK, Denmark, The Netherlands, Sweden and other countries.
Visitors profile:
In 3 days exhibition visited by 28,176 people: students of 9-12 grade, teachers and undergraduates.
We'd be pleased to see you among our exhibitors!
We will take care of your stand in the designated area.
2 nights accommodation (with breakfast) for one person is included in participation fee.
Evening reception and Vilnius highlife experience is included in participation fee (we organize our afterparties with as much care as the event itself).
Transportation from the hotel to exhibition hall and back is included in participation fee.
Should you have any further questions, please feel free to contact us:
paulius@kalba.lt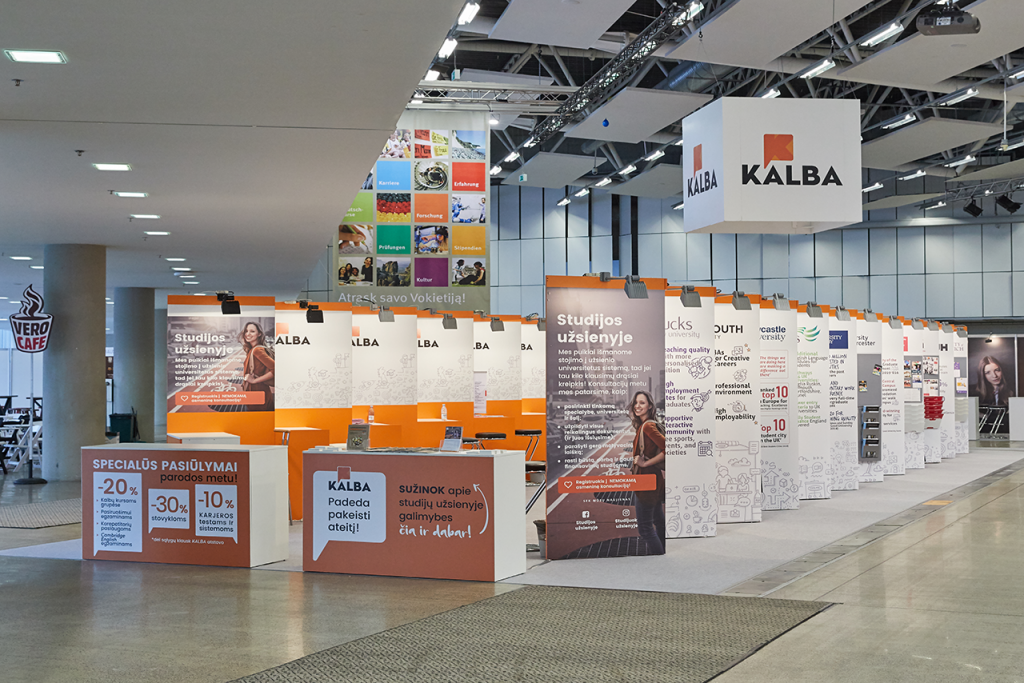 Venue
LITEXPO – Lithuanian Exhibition and Congress Centre
Located in Vilnius, Lithuania, is the largest exhibition center in the Baltic states.
It offers nine exhibition halls with a combined area of 17,600 square meters (189,000 sq ft) and outdoor area of 15,100 square meters (163,000 sq ft). Biggest hall have capacity of 1.800, while capacity of whole center is 8.000 people. About 600 conferences and other events are being held here yearly.